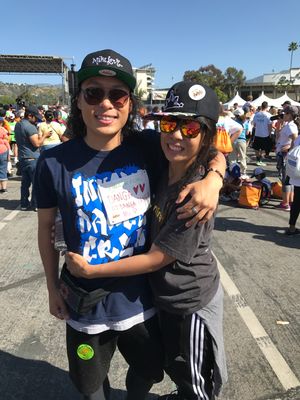 Let the healing begin 
Open up and let the love flow in 
Let hope and joy come and destroy your suffering 
Let the healing begin 
Some people are blessed to find their BFF in this lifetime, their partner in crime who they share everything with.  Some people are blessed with the best family where love is unconditional.  Some people are blessed with their set of friends who are their chosen family.  Some people are blessed to find their soulmate, the one who connects with them on every level imaginable.  I am so lucky to have found all of these qualities in the love of my life, Michael. 
It was love at first sight. 
Not exactly where you see each other from across the room and fall madly in love. I think our souls fell in love first. We connected through Hip Hop.  Hip Hop as passion, creativity, self-expression, unity, love, and having fun. We danced in the same dance companies together.  We performed together.  We taught classes together.  We taught each other.  We evolved together.  I was first attracted to his passion and love for Hip Hop culture.  I fell in love with his positivity and his honesty.  It's almost nine years later and I still can't get enough of him.  He is the most supportive, loving, inspiring human being I have ever met.  Oh, and he makes me laugh too. 
So, how does one love someone with a chronic illness? 
He was the first person I ran to when I found out about my diagnosis.  When my world started to crumble, he was there to pick up all the pieces. He has been there through all of my highs, and he has seen me in my lowest of lows. He has comforted me through my pity parties, he calmed me down through my panic attacks.  He has helped pick me back up on my feet.  Kind of like how in the movie "The Notebook" where Noah read to Allie until she got her memory back, Michael used to dance with me to help my body remember how to move.  He held my hand, danced slowly with me, and kept me motivated through my tears. Michael continues to do everything he can to heal me physically, emotionally, and spiritually.  Many times it breaks my heart that his life is altering because of mine.  It's so unfair. 
Dance played a big part of what brought us together.  So what happens when we can't share that anymore? Will he still love me the way that he used to?  All the things that helped us grow and evolve together, what happens if it all goes away?  What happens if he gets tired of me holding him back? 
Couples face different challenges that test their relationship.  I am positive our love will stand everything life will throw at us, and it will only make our love that much stronger. 
To my lovebug, 
Thank you for all that you have done for me and continue to do for me.  Thank you for being so patient and understanding. I am so happy we found each other in this lifetime. Thank you for traveling with me, dancing with me, and dreaming with me. Thank you for being my shoulder to lean on, and for being my strength as I face all my inner demons. Thank you for showing me that life is still worth living. I feel like anything is possible when I am with you.  I love you bubs! 
Because I'd rather jump and dance and sing 
And spend my time swimming 
In love everlasting 
Song on Rotation: "Let The Healing Begin" by Mike Love
*** Written in 2017, Reposted 2022 ***